Trusted partner for investments in
Decentralized Finance
DeFi Capital is the leading investment firm for decentralized finance.
Our products play an important role in the adoption and realization of blockchain technology's most idealistic and innovative aspects which we understand as decentralized finance. Let us, together, financially empower generations to come.
How can we help you?
Explore our products.
What can you expect?
After many years of experience we have developed a number of strategies. Find out which strategy suits you the best.
Sign up for our newsletter
Get to know us and receive regular updates about cryptocurrency and decentralized finance.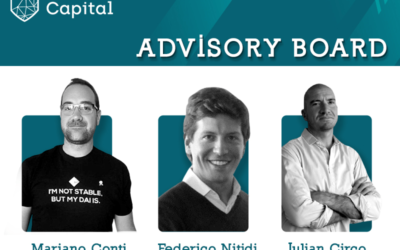 DeFi Capital is proud to introduce our advisory board. Each of them brings an ocean of experience and knowledge into the company that we can tap into. It was important for us to have advisors that have the same vision for the future of finance and I can wholeheartedly...
Why a DeFi fund?
We believe in decentralized finance as a logical step forward in the emancipation of humans across the world. Individuals will become responsible for their own value; where they store it, when they send it, what they buy and sell, etc.
However, value is much broader than currency alone. In the near future we expect that anything of any value will be able to move as money does now. Property, equity, collectibles and any other asset can, with blockchain technology, behave as money.
In comparison to the development of music, video and information on the internet, finance's technological step forward is long overdue.
It's an exciting time to witness the rise of this technology that will radically change the way we do business and the way value behaves.
A new way of finance
Ten years ago the first part of the solution for individual digital wealth management was proposed under the name of 'Bitcoin'.
Bitcoin is peer-to-peer transfer of value made possible by means of blockchain technology.
Bitcoin provided us with the first real blockchain. And blockchain can facilitate a censorship resistant, transparent and always accessible database, the perfect tool for digital wealth management.
Now, ten years after the creation of Bitcoin and blockchain we have discovered many different forms of utilities with Blockchain technology and we can now see the future we're heading towards.
A new financial system based on our most important values: freedom, equality and autonomy
Some words
Blockchain – and Bitcoin in particular – has shaken the conventional world of finance. No wonder then that almost anyone has said something about the technology. Here are some of our favorite quotes:
The future of finance is here
Investing in decentralized finance has never been such a reasonable choice. With big names of the conventional industry jumping in, the blockchain development and innovation won't stop anytime soon.
Experienced team
Our team hosts a wide range of experience in investing, funds managing, and especially the world of crypto.
Learn more
On top of the market
DeFi Capital is managed full-time. That means we are able to keep in touch with everything that moves in the world of blockchain and cryptocurrencies.
Learn more